In 2015, significant work was done at Blatchford to prepare the site for the first stage of development. With several project milestones complete, we are now closer to transforming the site into one of the largest sustainable communities in the world.

Here we take a look back at the year's top project highlights:
Environmental Remediation
To date, the cost to clean up the Blatchford site has been far less than expected. Significant testing on the site has shown locations with potential contamination are all located on the site's perimeter and are related to historic building usage. So far, 8 of 15 sites have been remediated for less than half the expected cost. In 2015, $1.6 million of a $3.5 million budget was spent remediating the site.
Learn more about the remediation process.
Building Removal
The former airport hangars are being deconstructed instead of demolished. Deconstruction means a building is slowly dismantled to allow the building materials to be sorted for recycling, reuse or waste management. So far, 12 buildings at the site have either been recycled, removed for reuse elsewhere, or are currently in the process of being deconstructed.
Check out a time-lapse video of the deconstruction process.
Runway Removal
Approximately 1/3 of the runways and taxiways have been removed at the site. The materials (concrete, asphalt and gravel) are currently being stockpiled, but will eventually be recycled on site and used to construct the roads in the community. Any excess materials will be sold for reuse elsewhere.
Custom Zoning
Building a community that functions and feels different than a typical neighbourhood requires examining every choice right from the beginning, including the zoning. The unique elements of the approved Blatchford zone will help achieve Council's vision for a community with family-oriented housing, urban agriculture, enhanced urban design, improved affordability, and significant green space.
Learn about the custom zones.
Groundbreaking
In August, the City of Edmonton officially broke ground on Blatchford and began construction on the first phase of residential development and a section of the central park. Mayor Iveson, Councillor Esslinger and a number of community supporters helped celebrate this exciting milestone.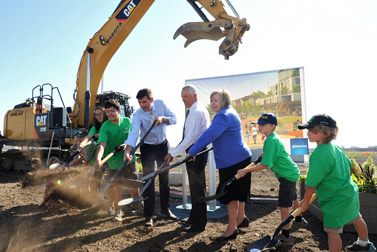 Construction
In the three months after the groundbreaking ceremony, the City made significant progress in preparing the site for development. Approximately 756,000 cubic meters of topsoil and clay were moved as part of grading work and excavation of the first stormwater lake. This soil will be reused in the community, with a significant amount of it used to build a large hill in the park.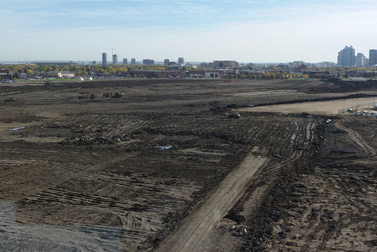 What's next?
2016 promises to be another busy year as we begin construction of utilities and roads, start the homebuilder selection process, and take the proposal for the District Energy Sharing System to City Council.