Cost to remediate first phase significantly under budget
As the City of Edmonton gets ready to begin construction at Blatchford, it has released the results of the first stage of remediation work at the site. The cost to remove contaminants from the west side of the site around the former air traffic control tower cost $292,738, far less than the $1 million originally budgeted.
"For this first phase of remediation, the information we had from the testing was accurate in terms of where contamination was located and what types of contaminants we would find," says Mark Hall, Executive Director, Blatchford Redevelopment project. "Environmental testing has been happening at this site since 1985. With 30 years of information to support our remediation process, we are well positioned to successfully remediate any areas of concern."
The City has contracted Golder Associates, a global company that has remediated thousands of sites around the world, to oversee the testing and remediation process.
In the area remediated, crews removed 3,253 tonnes of petrochemical hydrocarbons (e.g. fuel, oil, grease, solvents) from a 6.53 hectare area.
Results:
All locations with potential contamination are on the perimeter of the site and are related to historic building use.
Fifteen building locations on the site were identified as needing further investigation. These locations will undergo additional testing as the site is prepared for future development.
Three locations are now remediated. Additional remediation will occur over the course of the development.
Any areas of contamination will be remediated to meet provincial environmental standards.
More information on the remediation process can be found at BlatchfordEdmonton.ca
Future faces of Blatchford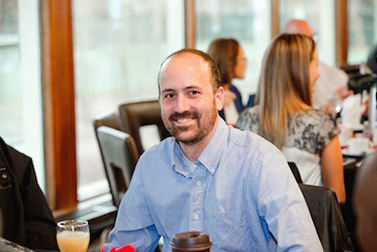 Myles Curry regularly takes on the challenge of reducing Edmonton's waste. As a marketing coordinator working in the City of Edmonton's Waste Management department it is his job to encourage Edmontonians to recycle and reuse. And while Myles has a strong interest in environmentally-friendly living, it is the livability features being built in Blatchford that has Myles looking to eventually buy a home in the community.
"What I am most excited about is the character I think will develop in this future neighbourhood," explains Myles. "I think Blatchford will be unique because it is going to attract a diverse group of people who want to live an active and social life centered on community."
The unique design of the homes, streets and open spaces in Blatchford will all work together to create a distinctive and vibrant streetscape not seen before in Edmonton. Gathering spots in the community will be carefully designed to create spaces and places for people to connect. Great urban design will emphasize connectivity, generous open spaces and a mixed-use approach to development.
"I have lived in Edmonton for 10 years, and have always chosen to live centrally because I like the lifestyle that comes with living in an urban setting," says Myles. "With Blatchford, I am looking forward to being able to buy a brand new home in a mature area of the city that is close to downtown."
The City will be selecting homebuilders for the first stage of residential development this year. Builders will likely begin pre-selling units in 2016, with the first people moving into Blatchford in 2016/2017.
If you are interested in living in Blatchford we want to hear from you! Take the survey and tell us what features are most important to have in the homes.