Ground-breaking, groundbreaking at Blatchford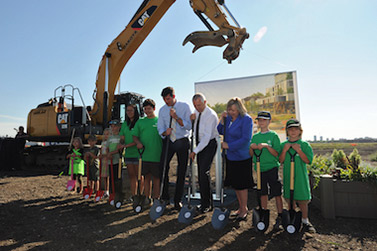 After years of planning and preparation, one of the world's largest sustainable communities is officially under way.
On August 8, 2015, construction began at Blatchford on the first phase of residential development and a section of the central park. Once site grading and excavation for the first stormwater pond is complete, the City will be able to begin installation of underground utilities.
To mark this significant project milestone, the City of Edmonton held a groundbreaking ceremony on August 12, 2015. Mayor Don Iveson, Councillor Bev Esslinger, Councillor Andrew Knack, the Blatchford team and several community members were at the site to celebrate.
While pre-construction work has been happening at Blatchford since 2014, the start of construction marks a significant turning point in transforming the 536 acres of land in central Edmonton into an inclusive, family-friendly, sustainable community.
"We are at a stage where we can now start to see significant progress at the site," says Mark Hall, Executive Director, Blatchford Redevelopment project. "And while we are celebrating the start of what will be a long and significant project for our city, we are also celebrating Edmonton's commitment to achieving a healthier, more sustainable and enriched lifestyle for our citizens."
See photos of the groundbreaking event.
Custom zoning helps Blatchford redefine community design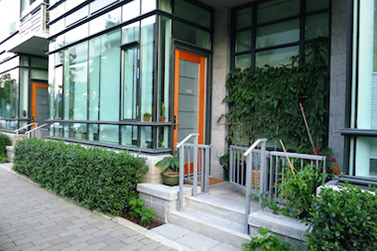 Building a community that functions and feels different than a typical neighbourhood requires examining every choice right from the beginning. At each step of the development process, including zoning, the Blatchford Redevelopment office is examining what can be done to create a community like no other in Canada.
On June 22, 2015, City Council approved the first special area zones for the Blatchford community. Some of the unique elements of the approved Blatchford zone include:
Ground floor residential units will have private entries facing directly onto the street to create a direct connection to the community, and all residential and commercial parking will be located underground or at the rear of buildings (no front driveways or garages). These elements will help create a unique urban feel and a vibrant street life.
Mixed-use buildings in residential areas will be zoned for small-scale retail only.
Buildings will have double the amount of bicycle parking normally required.
Approval to build secondary and garage suites in the townhomes. In addition to increasing density in the community, the development of these suites in townhomes will help to support Blatchford's affordable housing goals.
Homes can have rooftop decks and gardens.
Some public spaces will have community gardens.