Two new home builders have announced plans for multi-family developments at Blatchford, adding 40 more homes to the central Edmonton redevelopment. 
The home builders — NX Build and Common Ground — unveiled their new projects at Blatchford this week. The buildings will be the first condominium offerings on the Blatchford site, adding new housing types and price points to the neighbourhood's first stage of development.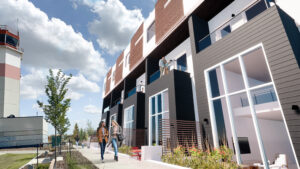 Units in both buildings start in the low $400,000 range and will have access to Blatchford's park space, bike paths and walking trails, and renewable energy system delivered through Blatchford's leading edge design.
NX Build's 15-unit Blatchford Landing features four townhouse complexes with units ranging between 1,551- and 1,576-square feet. Common Ground's 25-unit Malmö is a stacked condominium with townhouse and loft units, ranging from 1,100 to 1,250 square feet.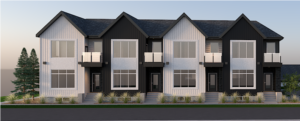 Homes in Blatchford Landing will be more like the townhomes already available in Blatchford, with four buildings made up of two- to three-bedroom units and an underground parking area with double attached garages for each home.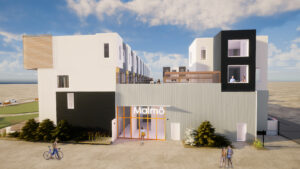 As a stacked condominium, Malmö's building is a newer style for Edmonton. Inspired by a Scandinavian aesthetic and designed by leading architecture firm GEC, the stacked condo structure avoids lobbies and hallways to lower condo fees. Instead of underground parking, each unit has a single outdoor parking space with an EV charger instead.
Contact our builders today for more information.