Amenities
Good things are built into every stage of Blatchford's development.
As the neighbourhood grows, you'll have even more places to live, play, and work.
And because you'll live in the heart of the city, you're just a short trip away to shopping, dining and other destinations.
Neighbourhood Plan
Blatchford will give residents the chance to meet their daily needs right in the community. When fully developed, Blatchford will have over 80 acres of parks and green spaces, public and catholic schools, NAIT, a vibrant market district, multiple public plaza spaces and more.
Planning and building a sustainable community like Blatchford means leaving room for new opportunities. As the world changes and the community grows, so will we. The plan below may evolve over time.
View on Map
LRT
Bus Stops
Schools
Parks and Green Spaces
Plazas
Cycling Infrastructure
Main Community Entrances
Current Development
LRT
Less commuter stress. Quicker connections. Less emissions.
With a people-first, cars- second mentality driving our community design, having convenient and sustainable transportation options in Blatchford is a must have. With two LRT stops being built right in the neighbourhood, residents and visitors will be just minutes away from the downtown core and well connected to the rest of Edmonton.
Our two community stops – NAIT/Blatchford Market and Blatchford Gate – will be built on the east side of the neighbourhood. And for those living life on Blatchford's west side, a network of pathways and roads will be built to create a seamless experience that makes it easy to connect to the stations by foot, bus or bike.
Construction on the two LRT stations in Blatchford started in June 2020, with service expected to start by 2024/2025.
Bus Stops
Buses will eventually run through the entire community, but for now, you can access transit just a few minutes' walk away along Kingsway. While not currently in service, bus stops have been built in the first stage of the neighborhood for future use. As new stages are built, additional bus stops will be added in Blatchford.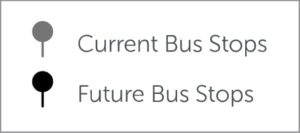 Schools
In addition to the existing amiskwaciy Academy, two more school sites are planned for Blatchford, including both a catholic and public school. The exact timing and grade levels are still being determined, but if required, the west school site could be serviced within the next 2-3 years and the east school site in the next 5-7 years.
Moving in sooner? Here are some schools in neighbouring communities to explore:
Elementary (K-6)
Inglewood
Prince Charles
St. Catherine
St. Basil
Junior High (7-9)
Westmount
St. Basil
St. Catherine
Spruce Avenue
Senior High School (10-12)
For those seeking post-secondary, NAIT will no longer just be our neighbours! They will be a part of the community with their 33 acre campus expansion on the east side of the site. Plus, MacEwan University and the University of Alberta are an easy LRT ride away.
Parks and Green Spaces
Blatchford offers the best of both worlds – lively streets and public places alongside parks and green spaces. In addition to our large central park, plenty of additional smaller pocket parks and green spaces will let you easily escape to nature. Amenities like playgrounds, community gardens, fruit orchards, and spaces for all season use are being built for residents and visitors to enjoy.
Plazas
Public plazas will be woven throughout the community to offer residents the opportunity to connect with neighbours. The large Civic Plaza will be a gathering space where farmer's markets, festivals and performances can be held.
Cycling Infrastructure
A network of connected cycle tracks, shared use paths and other off-street bike paths throughout the community means getting around by foot or bike will be an easy choice.
Main Community Entrances
Traveling in and out of Blatchford will be hassle-free with numerous community access points.
Current Development
Homes are currently selling and construction is underway in the first stage of the community. In addition to beautiful and energy efficient buildings, the first stage also includes a linear park with community gardens, a playground, a fruit orchard, a plaza, an event area and much more!
Stage Two of the development is planned for 2021. Stay tuned for more details.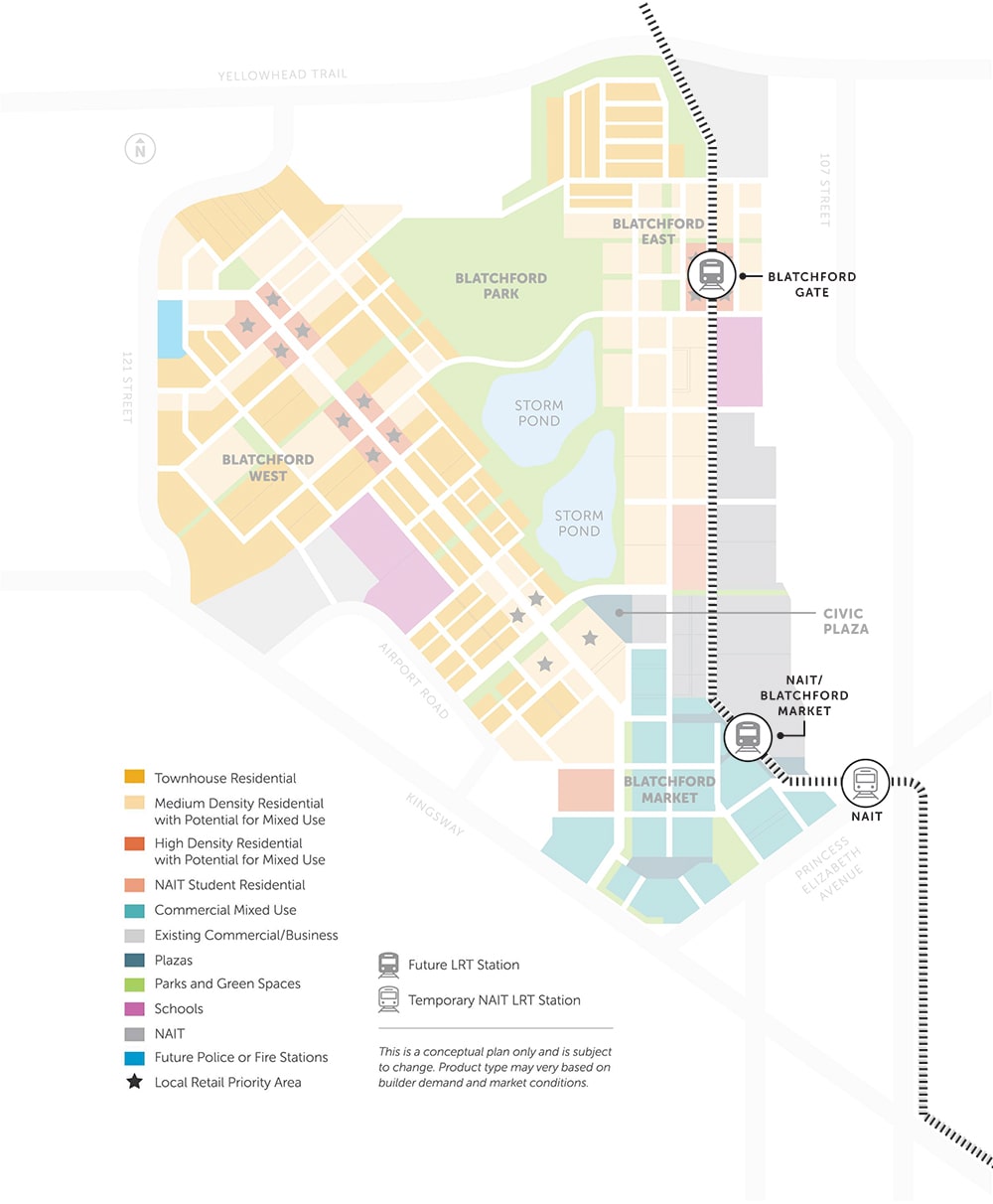 X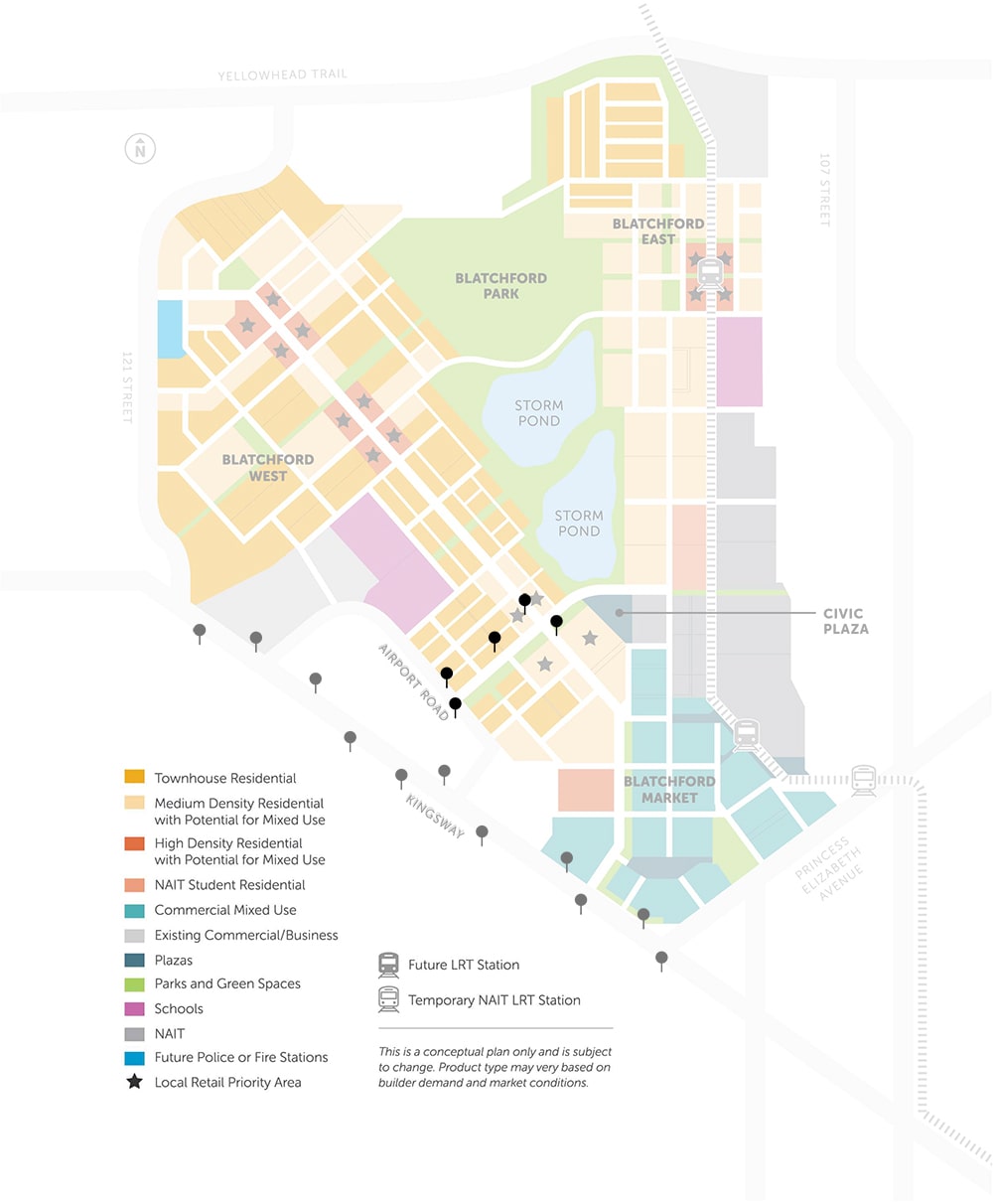 X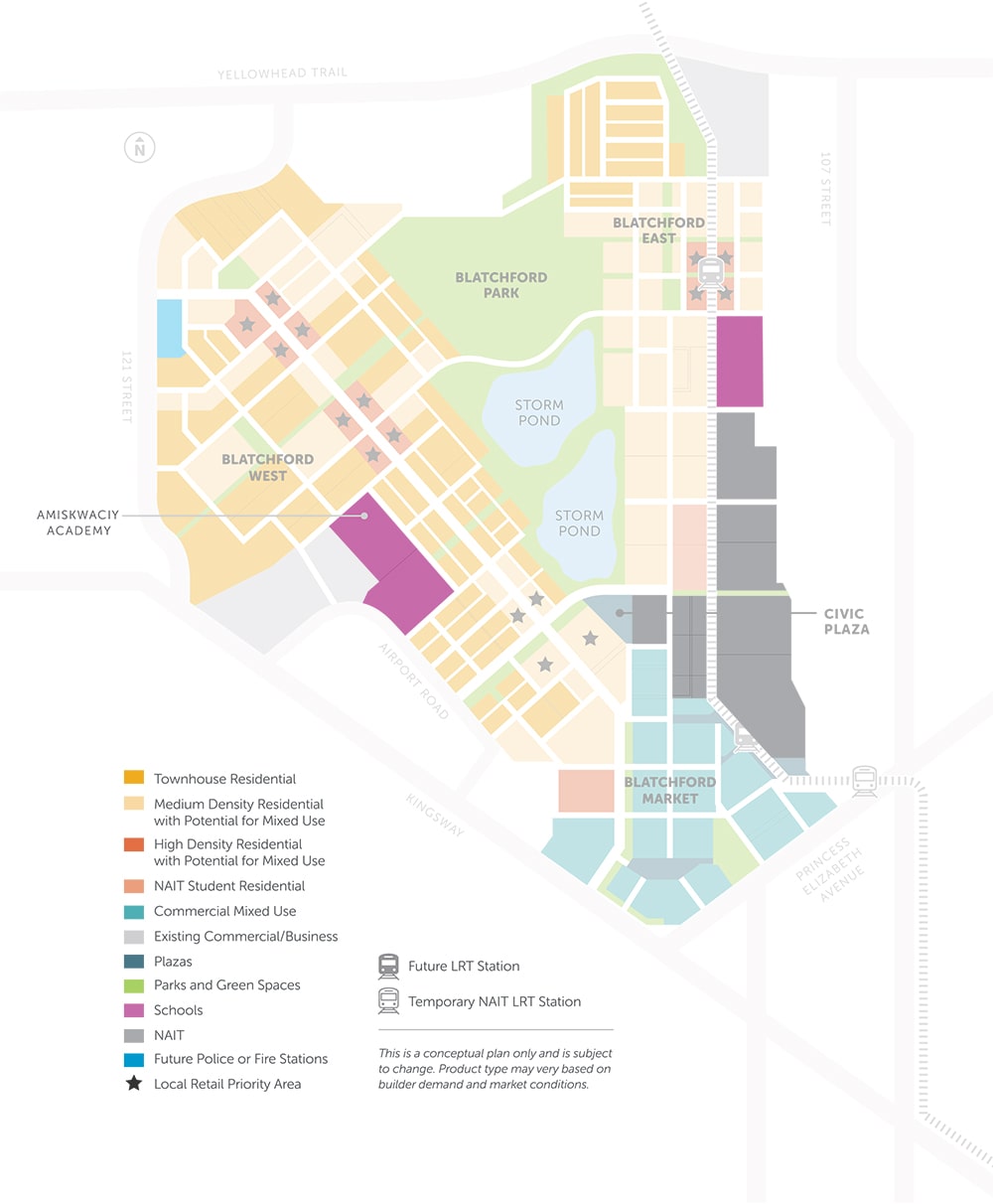 X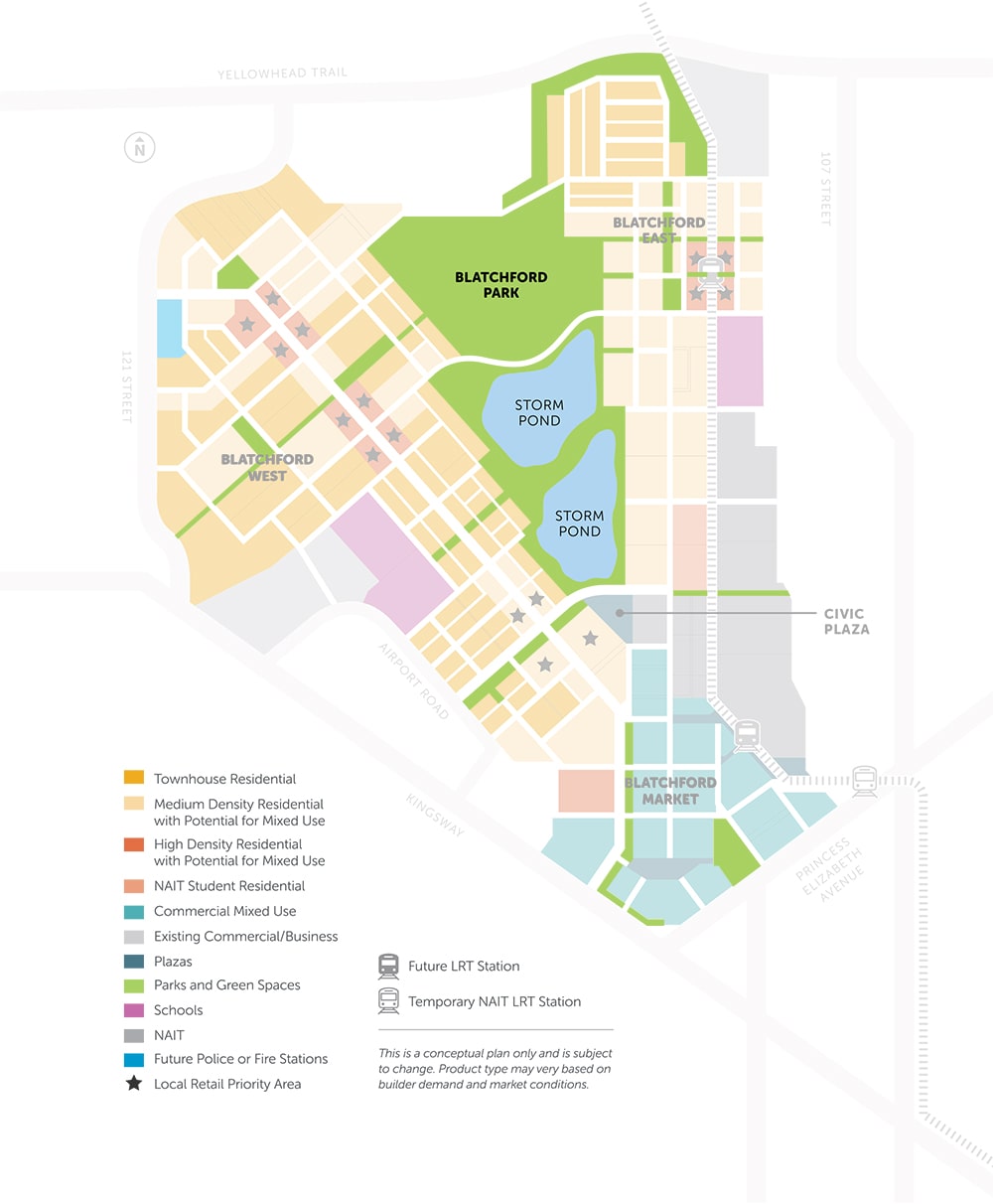 X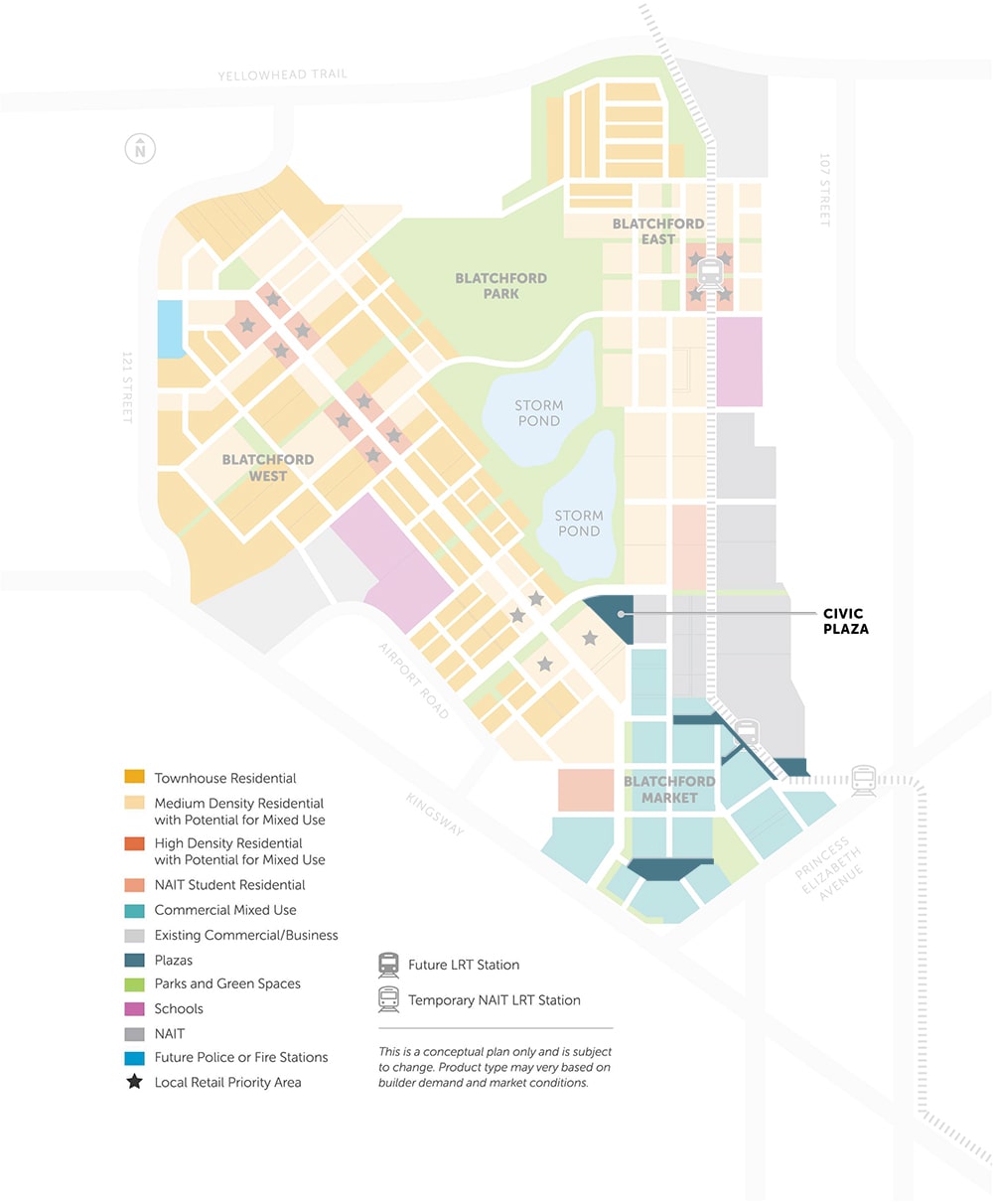 X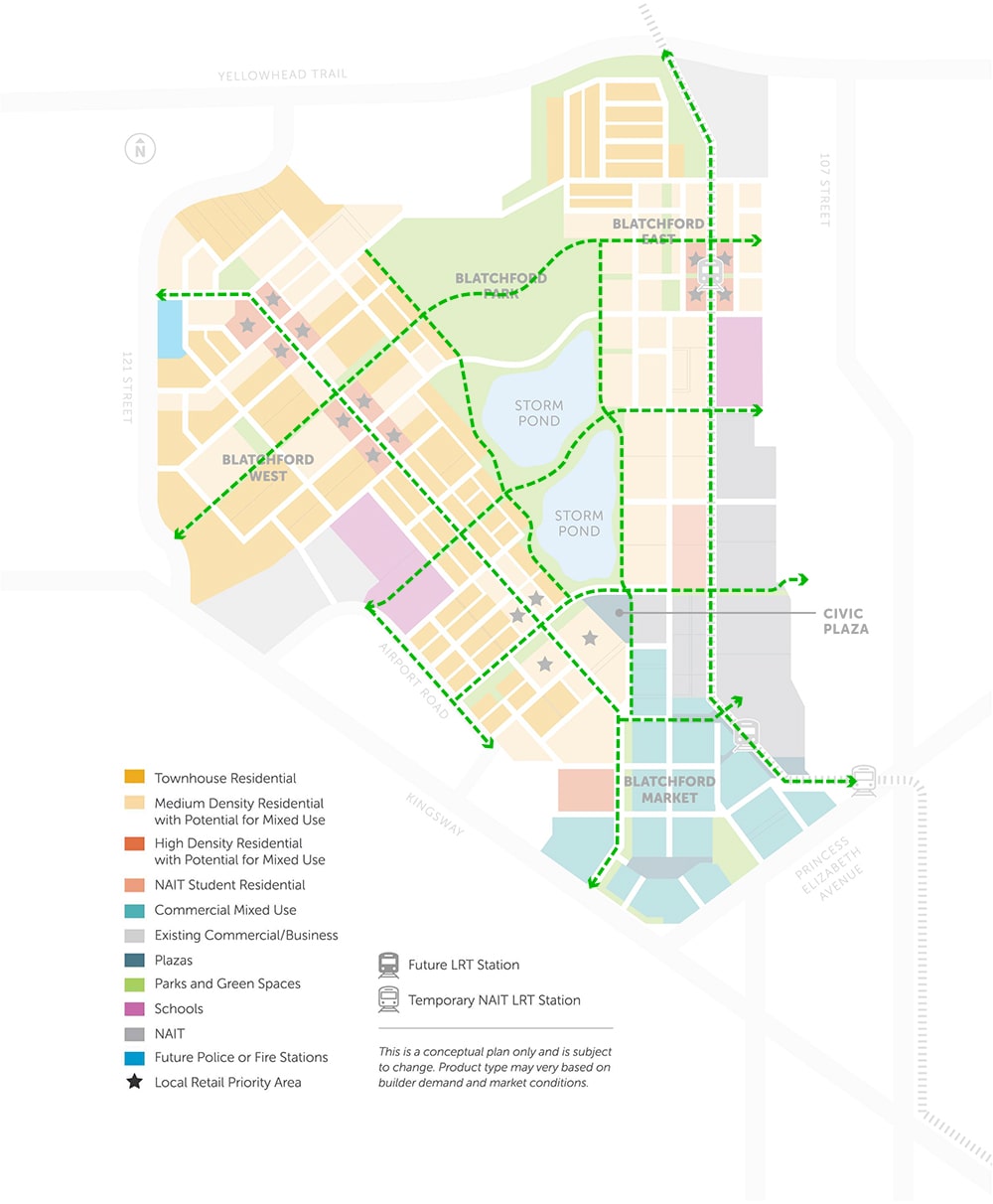 X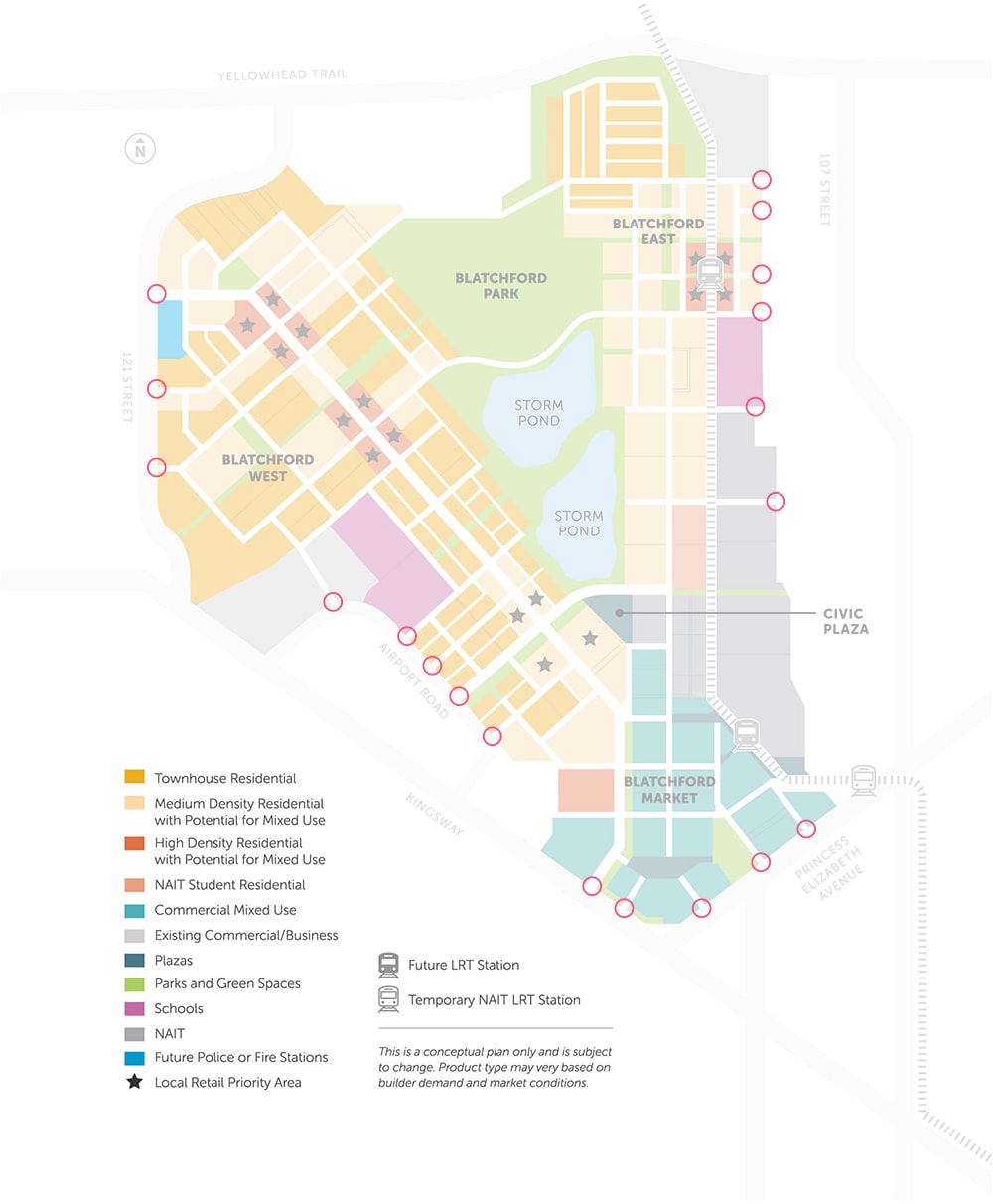 X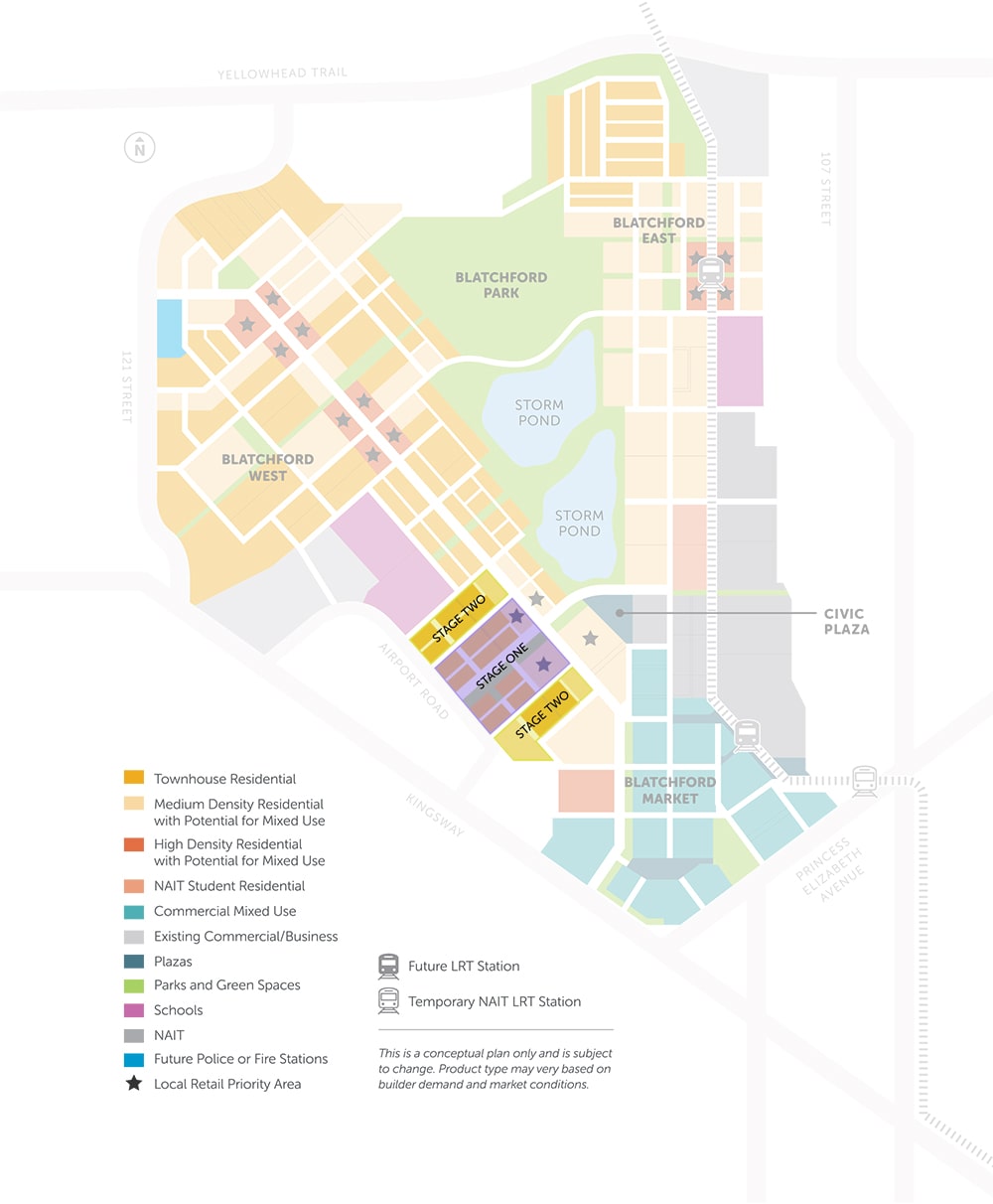 X
Other highlights of
the park and green spaces:
The first residents won't have to wait long to start enjoying this great amenity. A section of the park and one of the ponds will be built at the same time the first homes are constructed.
The east side of the stormwater ponds will be built with an urban edge where you can get close to the water. This design feature will offer a unique gathering spot to enjoy the ponds. The west side of the stormwater ponds is designed to be more natural, giving you different scenery and options for outdoor recreation.
The park will include a variety of landscapes from open meadows to wetlands.
Smaller parks will be located throughout the community. These green spaces will have amenities like community gardens and playgrounds and plazas.
Community gardens will create gathering spaces for neighbours to get to know one another while offering you a chance to grow food right outside your front door.
To embrace winter, opportunities for year-round activities will be created to ensure the park can be enjoyed every day of the year, including bike trails, picnic areas, walking paths, cross-country skiing trails, skating and a toboggan hill.