See the community vision come to life – visit the site, meet our builders and tour a home. The first show homes/sales centres are now open! Please contact the builders directly to find out more about their hours of operation. 
Location: The first stage of the community is accessible off of Kingsway (turn onto either Airport Road entrances). Using a navigation system? Enter 2755 Blatchford Road as the destination.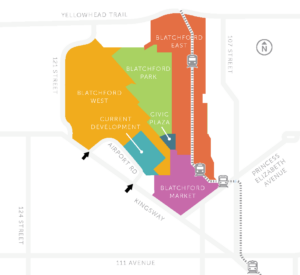 Are you a builder interested in building in Blatchford ?
Blatchford is one of the largest sustainable developments planned anywhere in the world. If you are interested in finding out more about current or future land sale opportunities and becoming one of our builder partners, request a sales brochure today.
If you would like more information or to set up a meeting, please email us at blatchfordbuilders@edmonton.ca
SALES BROCHURE
Personal information is collected for the purpose of receiving information about land sale opportunities and will be used to distribute the Sales Brochure for Blatchford Development. Collection is authorized under section 33(c) of the Freedom of Information and Protection of Privacy (FOIP) Act and is managed and protected in accordance with the Act. Questions about the collection, please contact Director, Marketing and Sales at 587-987-1295, Blatchford Redevelopment Office, City of Edmonton, 13th Floor Edmonton Tower, 10111 – 104 Ave, Edmonton AB T5J 0J4 or at blatchford@edmonton.ca. View our Privacy policy.