Blatchford is being built on design principles that will not only keep us on track to achieving our vision, but which will also help us create a unique neighbourhood in Edmonton. One of these planning principles – history – means making sure the history of the site as Canada's first municipally-run airfield (#YXD) is embodied in initiatives throughout the community! 
One of the biggest ways to honour the aviation past lies right in the community name. Blatchford is named after Edmonton's former mayor, Kenneth Blatchford. 
Kenneth arrived from Manitoba to the Edmonton region in the 1880s. He worked odd jobs selling newspapers, operating a gristmill and selling insurance before entering politics. After serving as a Councillor, he became Mayor of Edmonton in 1923. Kenneth used his influence to make the case for a permanent airport to be built in the city. Thanks to his advocacy, Edmonton became the first municipal airfield in Canada. Originally dubbed Edmonton's "air harbour," the site was eventually renamed Blatchford Field in his honour.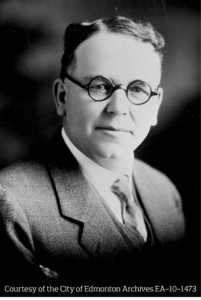 All roads, lanes, walkways, parks and plazas in Stage One are also named after notable individuals in Edmonton's aviation history: 
12-30 Plaza

: 12-30 was one of the two main runways at Blatchford Field named after how the the runway aligned with magnetic north. As a new public amenity space in the community, 12-30 Plaza will feature interpretive elements related to aviation throughout its design.

Adair Road

: Harry Adair was a wealthy Grande Prairie farmer eager to get his goods to market and in 1924 he invested in air travel. Adair bought a new aircraft and partnered with Wop May, a leading Canadian aviator, in a new business venture to transport furs from Northern Canada. Adair quickly became an advocate for building an airfield in Edmonton, and along with Wop May, he successfully petitioned Edmonton's Mayor Kenneth Blatchford to develop a plan for a permanent airport.

Alpha Boulevard

: Taxiway Alpha was one of the avenues used by aircraft in Blatchford Field to access runways, terminals and hangars. A main road running north to south in the community has been named Alpha Boulevard in recognition of this history.

Fane Road/Mews

: Margaret Fane was an Edmonton-born pilot who dedicated her life to her love of aviation and breaking barriers. In 1935, Fane made history by becoming the first woman in Western Canada to receive a commercial aircraft license. 

Littlewood Park

: Margaret Littlewood was a legendary pilot who flew and taught flying out of Edmonton's Blatchford Field. She had an important impact on aviation by training pilots who fought in WWII, bush pilots who would help explore the North, and airline crews that opened up the skies to the public.

Tommy Fox Lane

: Tommy Fox enlisted as an aircraft ferry pilot in WWII. After the war, he helped introduce the use of helicopters for oil exploration, establishing himself as a leader in Canadian bush aircraft operations, which flew out of Blatchford Field. In 1984, Fox was inducted into Canada's Aviation Hall of Fame for his visionary ideas and role in Edmonton's aviation community.

Yorke Road/Mews

: Simon Yorke was a key member of the Edmonton and Northern Alberta Aero Club established in 1927. In 1937, a new weather station built at Blatchford Field and he became the airport's meteorologist, using balloons to follow changes in the wind and sending this information to other airports so their pilots could travel safely.
The first stage also features two heritage features – 'Arrival Gate' at the entrance into the community off Airport Road and 'Takeoff' inside the roundabout at the intersection of Alpha Boulevard and Blatchford Road.
The community will feature commemorative plaques throughout, allowing residents and visitors to always remember the contributions made to Edmonton's aviation history by these legendary individuals.