We're pleased to announce a new homebuilder is coming to Blatchford! StreetSide Developments is getting ready to start construction on 26 new condo townhomes located just steps away from Littlewood Park.
We connected with Tom Lumsden, Blatchford's Development Manager, and Nicholas Carels, Vice President, Northern Alberta, StreetSide Developments, to share more about the latest homes planned in the community.
"A number of years ago, StreetSide set out to build a different type of townhome by keeping an unwavering focus on balancing livability, affordability and desirability. We believe these homes, paired with the architectural and energy performance standards for Blatchford, are going to result in a really special home offering unlike anything else in the market," says Carels.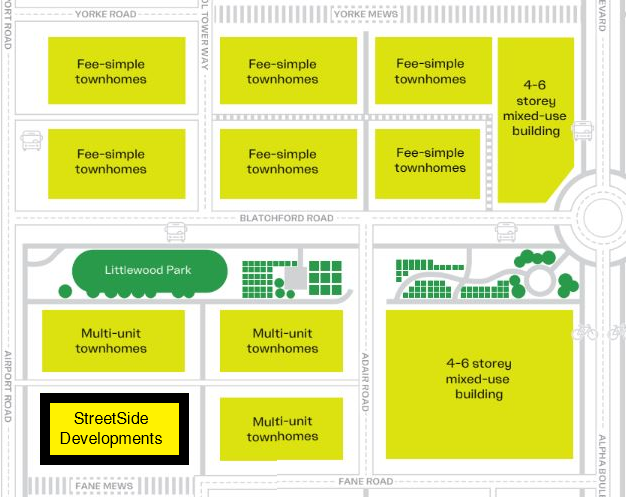 StreetSide's townhomes are close to Littlewood Park and all of its community amenities, including an outdoor fire pit, community gardens, fruit orchard and playground. And like all homes in Blatchford, these new condo townhouses will have quick access to downtown, shopping, schools, and entertainment in nearby neighbourhoods. And as Blatchford continues to grow, more amenities will be added right in the community.
"It's exciting to see a community that really leverages its location with an emphasis on pedestrian and cycling activity and offers community amenities that reflect the lifestyle of owners that would be attracted to this type of location," says Carels.
Blatchford's Development Manager, Tom Lumsden, is excited to welcome StreetSide to the community. "It helps to show people that Blatchford is growing and offers more home buying opportunities for Edmontonians who want to live centrally."
With over 70 years of industry experience, StreetSide Developments is a division of Qualico, Western Canada's largest fully integrated and privately owned real estate company.
Learn more about StreetSide's townhouses at streetsideedmonton.com and for more information on homebuilders in Blatchford, visit our Homes page.
Renderings, photographs and other media are for the sole purpose of illustration and may differ from the actual product.