We hope you are staying safe and finding ways to adjust to our 'new reality'. Whether it's working from home or finding new ways to (virtually) connect with friends and family, we're all experiencing an unexpected year of change.
While there is no such thing as 'business as usual' in these times, we are still moving forward. Our home builders are continuing with the construction of their townhomes with additional safety measures in place, and as we enter into our spring construction season, we are working with our contractors to ensure their work follows Alberta Health Services guidelines and recommendations.
These are trying times, so take care of yourself and take care of each other. We look forward to sharing brighter days ahead with you.
Community News
Biggest Colour Trend This Season: Green
Our construction season at Blatchford is about to bring a whole lot of 🌿🌳 life to the community. From an apple tree fruit orchard to wetlands, crews are focused on completing the landscaping in the first stage of the community and around the stormwater pond. 
Let's take a closer look at the first two (of many) green spaces that are now under construction  in Blatchford!
Littlewood Park
The first pocket park in the community is being built right across the street from the townhomes that are currently under construction. Littlewood Park will be packed with amenities, including 56 community garden plots, a fruit orchard with 4 different types of apple trees, a plaza and additional green space for future picnics and pups to enjoy. 
Plus, to make sure even the littlest residents have a place to play, a playground will be built in Littlewood Park. The playground will have equipment specially designed for 2-5 year olds and a separate area that will have equipment for older kids who are 5-12 years old. 
Blatchford Park 
A great central park for a great central community. Located in the centre of the neighbourhood, Blatchford Park will have plenty of open spaces, two ponds, treed areas and extensive trails. 
Construction crews are already on site building the view deck over the first pond and preparing to landscape the surrounding area. The landscaping won't stop at the edge of the pond though, as crews will be adding native vegetation and wetland plants right into the water to create a naturalized wetland area. Crews will also be installing amphibian habitats to ensure our frog friends have a place to call home! 
Naturalized wetlands play an important role in sustainability. In addition to providing habitats for birds and beneficial insects, the plants help to capture and absorb pollutants, cleaning the water before it makes its way to the drainage systems, and eventually the North Saskatchewan River. 
This year, crews will also be completing the landscaping around the pond, including building a shared use path for residents and visitors to enjoy.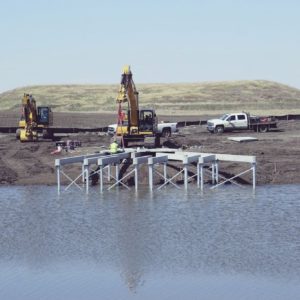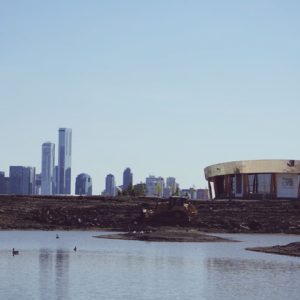 Be the First to Live the Blatchford Life
Our builders have been busy connecting with home buyers as they continue to build homes for families to enjoy in the future. Looking to make the move this year? Learn more about our builders and the homes now selling.
New home construction is moving fast on site! Here are the latest photos from Encore Master Builder, Mutti Homes and Ocheller by RedBrick